Sharvette Mitchell is a guest speaker for the Higher Living Publications Writers Workshop/ Get Published
---
Higher Living Publications of Speaking Spirit Ministries will be hosting, "The Christian Writer 101″ Workshop on Saturday, October 1, 2016 from 9AM to1PM (Check-in is at 8:30AM) at our main campus 4205 Ravenswood Road Richmond VA 23222.
Tickets: $20 – Purchase online at http://bit.ly/higherlivingpublications
This informative event will be presented by Nina Fitzhugh-Wells of iScribe Writer's and Publisher's Institute. Instructors will include: Sharvette Mitchell of Mitchell Productions and Keith Wheeler of Wheeler Global, LLC.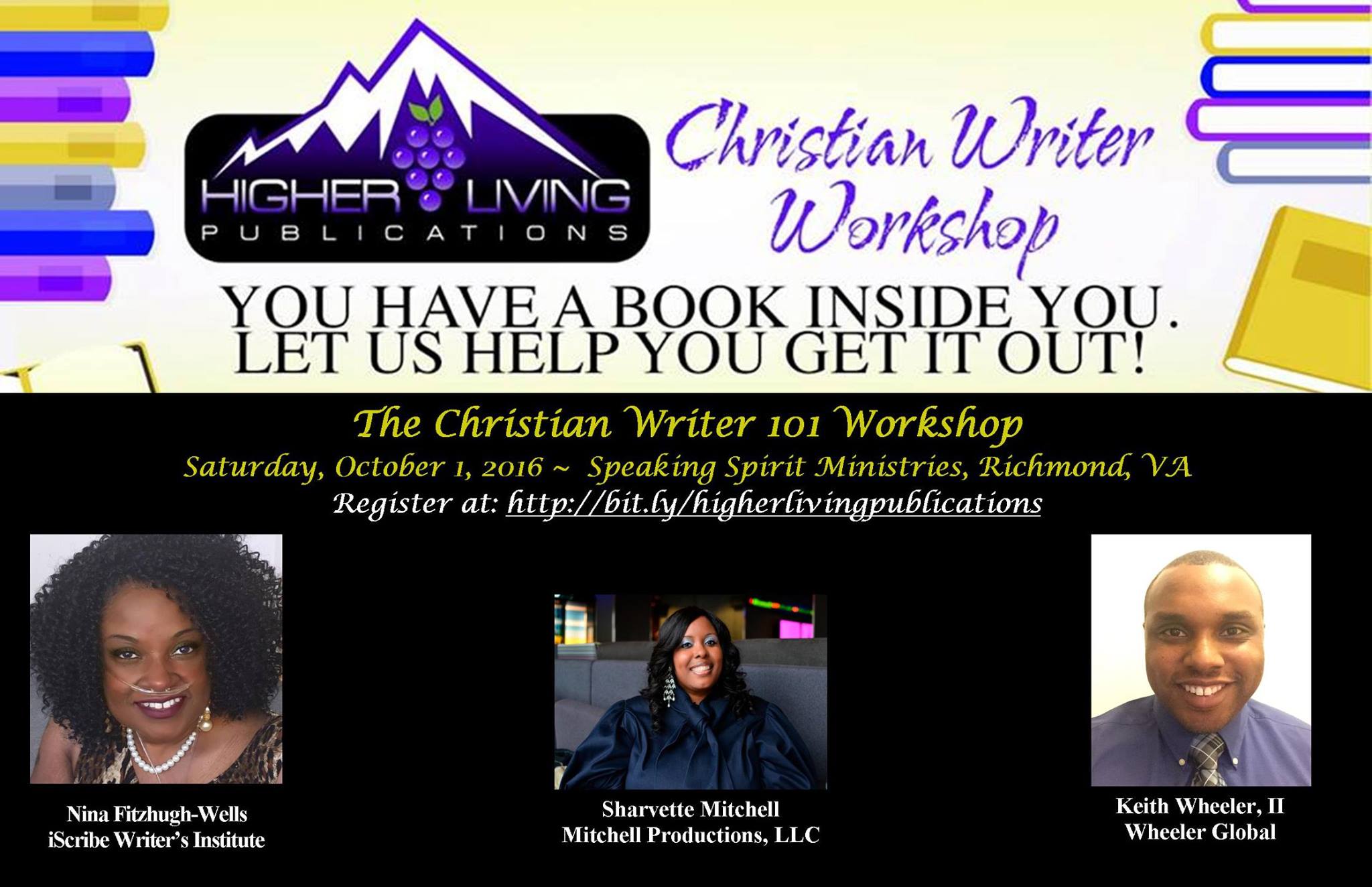 Topics Covered:
UNDERSTANDING CHRISTIAN SELF-PUBLISHING
COMMUNICATING THE VISION
COMPONENTS OF A BOOK PROPOSAL
(Formatting your manuscript, Query letters, Literary agents)
LAYING OUT YOUR BOOK
DESIGNING YOUR COVER
GENRE WRITING STYLES
(Fiction, Non-Fiction, Poetry, Children & Young Adults, Media)
THE PROCESS OF EDITING AND PROOFING
PRINTING YOUR NEW BOOK
(Soft Covers, Hard Covers, e-books)
BUILDING A WINNING PLATFORM
GLOBAL MARKETING & PROMOTING of YOUR BOOK
BECOMING SOCIAL MEDIA SAVVY
HANDLE YOUR BUSINESS
(Next Steps, copyrights, registration, taxes, business start-up)
Join us for this impactful event and see how you can get your book published today!
WHEN

WHERE

Speaking Spirit Ministries – 4205 Ravenswood Road, Richmond, VA 23222 – View Map

TAGS